Pool Filter Pumps Used In Swimming Pool Filtration
All swimming pool filter pumps have one thing in common--they filter the water of your swimming pools or spas. They are the driving force behind your entire pool system and the most important part of your pool equipment. A pool pump mechanically connected to a swimming pool filter work to get rid of unwanted debris in the water.
They are also needed for you to achieve proper pool water turn-over, which will ensure proper treatment of your pool or spa water.
The water in a swimming pool or spa is drawn through the suction side of the pool pump and is discharged through the discharge side.
the water is then forced through a filter system where it is filtered before circulating back to the pool.
Many pool filter pumps are designed for use on both in-ground and above ground pools.
Pool pumps designed for swimming pool and spa use are available in many sizes, shapes, and horsepower.
The electrical power supply that is required to operate a pool filter pump is also different. Some pumps are rated for 115 volts, 115/208 volts, and 230 volts. Some of the larger horsepower pumps are rated for 460 volts. These are mostly apart of commercial swimming pool filter systems. Above ground swimming pools usually use a pool filter and pump combination to help save space.
However, a system for an in-ground swimming pool is a little different. A mechanical room is usually allocated for the pool equipment connected to this type of pool.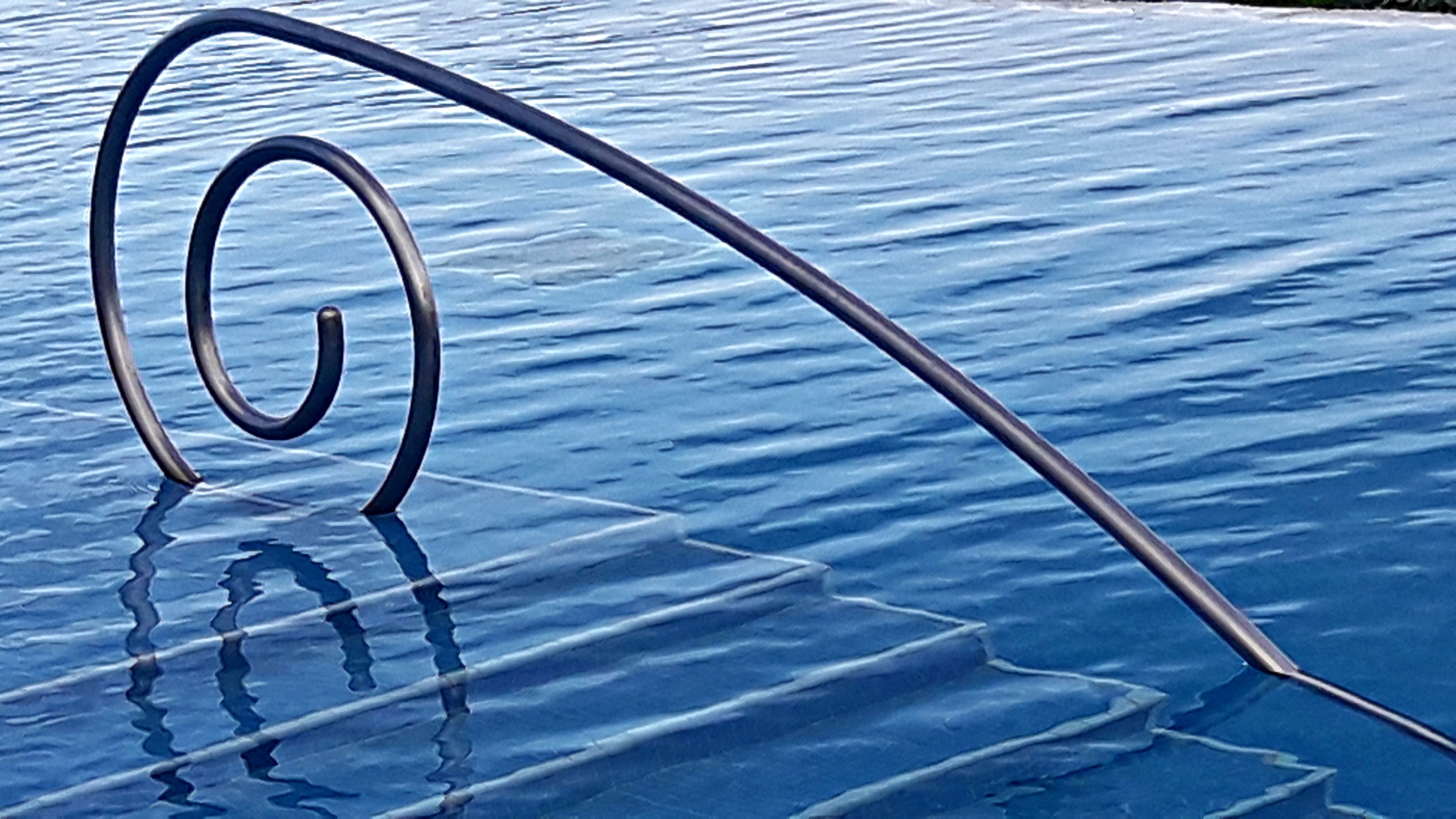 Swimming Pool Filter Pumps For In-Ground Pools
Manufacturers Of Swimming Pool Filter Pumps
A pool pump that is designed for use on a swimming pool or spa can be designed by many different manufacturers. But the designs used are the same. Many of these swimming pool filter pumps manufacturers also design other pool equipment like pool heaters, pool filters, and pool covers. Still, for many of them their focus is on the pool pump.
Some of the more familiar pool filter pump manufacturers are:
Hayward. These guys have several types of swimming pool pump designs that you can choose from. The pool pumps designed by these guys are very efficient and they run incredibly quiet. Especially the NorthStar model. This model pool pump is one that is designed for today's most demanding swimming pool installations. 
The NorthStar pool pump is one that sets a new standard in performance--when it comes to swimming pool pumps. And as I mentioned before, it is designed to maximize flow and minimize noise. It is also quite easy to service and installed on your swimming pool filter system. It is a choice of many pool and spa professionals. As with any piece of swimming pool equipment, a user manual is included with your swimming pool filter pump purchase.
This user manual gives you all the specifications of the filter pump--including proper operating guidelines and maintenance. Some of the other known pump models designed and manufactured by Hayward are the high performance Super II pump series. These pool pump models are of a large capacity, very efficient, and they are built to last.
The Super II filter pump is engineered to perform under the most demanding pool filtering conditions. Another Hayward model that is extremely popular is the EcoStar. This is a model you will find in the in-ground pool pump category. The EcoStar swimming pool filter pumps are the most efficient pool pump at any speed.
They can save a pool owner close to 90% in energy cost. The EcoStar (SVRS) is the industry's most energy efficient pool pump that has an integrated Safety Vacuum Release System (SVRS)--which helps in the prevention of suction entrapment.
PentAir. This supplier of swimming pool and spa supplies is another major designer of swimming pool filter pool pumps on a large scale. Although their designed models may look different, you can still find what you need in terms of--pump size and horsepower. One of power. One pool pump model by this manufacturer is the Whisperflo series.
This model is also filed under the in-ground pool pumps category. A Whisperflo swimming pool filter pump is designed to deliver maximum efficiency in water circulation at the lowest cost of operation. Pentair has designed this model of pool pumps to give long, trouble free operation during its life span with exceptionally minimal maintenance.
This is another swimming pool pump that is designed to give maximum performance at an incredibly quiet operation. Another great Pentair design swimming pool pump model is the Intelliflo VS+SVRS (Safety Vacuum Release System).
This variable speed pool pump is the revolutionary way to reduce the cost of energy and provide the safest possible pool environment. According to its manufacturers, it is an intelligent pool pump that can cut the pool operating portion of your utility bills up to 90%.
This can give the swimming pool owner hundreds of dollars in energy savings over the course of the year--which can lead to thousands saved over the life of the pump. Just like the Hayward EcoStar pool pump, Pentair Intelliflo pool pump has a safe feature in the form of a built-in Safety Vacuum Release System (SVRS) that senses drain blockage and automatically shuts the pump off--which again helps prevent entrapment of swimmers. 
Jandy. Jandy is another one of the major manufacturers of swimming pool and spa supplies. These guys--like the rest of them are also manufactures of spa and swimming pool heaters. They are also a major designer in swimming pool filter pumps. One of their more efficient models is the Jandy's FloPro pool pump. it is available in single two-speed models and extremely easy to install. 
It is very energy efficient; thus, making it very suitable for the use on both spa and pool filters. The FloPro has an innovative adjustable base which allows it to be a quick, easy, and direct replacement solution other models such as the Hayward Super pump, Pentair Whisperflo and SuperFlo pool pumps. The ultra compact FloPros come equipped with an ergonomic cam lock lid with easy alignment indicators and two 2-inch unions. Jandy's FloPro filter pump is another perfect choice in pool filtration when it comes to energy savings. 
It is also a particularly excellent choice if you are looking for a pool pump that gives high flow with medium head in a compact body. It is an excellent choice for small equipment areas. Another one of Jandy's swimming pool filter pump models is their variable speed e-pump. This model has 8 variable speeds and a high efficiency motor--which makes it one of the quietest and most efficient swimming pool filter pumps available today.
Using the e-pump can save you a cost of 70% in energy usage. There is an optional e-pump controller that can be installed that manages the eight speeds of the pump. The controller features two independent timers, and it can be installed to operate remotely up to two hundred feet away. The e-Pump also has the capability of being able to interface with the Aqualink RS & PDA systems or it can be used as a stand-alone system with its own proprietary controller--which includes a two-speed timer and LCD display.
Choosing the right swimming pool pump involves more than just going to your pool supplier and picking up one. You must know things like how many gallons are in your pool or spa, the voltage your pump is or will be operating on, head pressure, filter size, etc. These are just some of the things that goes into getting the right pump for your pool/spa.
So, when you decide that you want a swimming pool or spa, make sure that you talk with a professional who knows the ins and outs of the pool industry; thus, ensuring that you get the correct size when purchasing swimming pool filter pumps.
Swimming pool filter pumps are essential to proper pool and spa sanitation.